Steven Rapoport & Justin Moore with CRER (Chicago Real Estate Resources Inc.) brokered the $4,560,000 off-market sale of (2) adjacent properties in Chicago's Lincoln Park. The buildings contain (3) retail units with (8) apartments above situated on a 12,000 Sq. Ft. parcel of land offering 100' of frontage on Lincoln Ave. The buildings were purchased by a partnership led by Kiferbaum Development Group.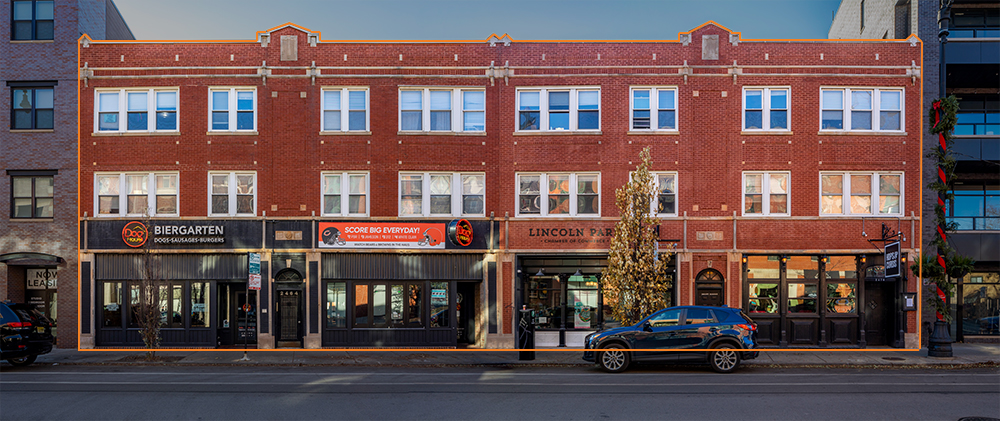 The properties are situated on the same block as the Biograph Theater, the location where the infamous bank robber John Dillinger was shot and killed by FBI agents in 1934. The Restaurant at 2464 N Lincoln was formerly a popular Jazz club named Ratso's. Currently, California based restaurant group, Dog Haus is occupying the space.
The bar at 2470 N Lincoln used to be Somebody Else's Troubles, a well-known folk music bar owned and operated by the owner of the legendary Earl of Old Town bar in partnership with famous folk musicians' Steve Goodman and the Holstein brothers. The space is now occupied by Hops and Curds, a modern gastropub that captures much of the charm of the space.
In addition to a rich history, this area has seen a surge in development activity. The 6-acre $350 million-dollar new construction Lincoln Common development has created a more cohesive retail stretch along Lincoln Ave. Also, Sterling Bay recently completed renovations of the life sciences property at 2430 N Halsted bringing highly desirable state-of-the-art lab space to the neighborhood. At the northwest corner of Lincoln and Halsted, a new construction development containing 36 rental apartments with ground floor retail is currently under construction.
Contact Steven or Justin if you need help buying or selling a multifamily/investment property in Chicago or the surrounding suburbs. If you are interested in better understanding what your property could sell for, they are happy to provide you with a free valuation report including financial analysis and comparable sales.